Drying Table
Type
Block 
Category
Tool 
Stack Size
64
ID
dryingTable
A lot of drugs need to be dried before being refined further, or simply consumed. To efficiently do that, you can arrange your plant matter on drying tables.
Make sure, of course, that your drying table gets lots of heat and sun exposure. The sun in the top right of the GUI indicates the current drying effectiveness.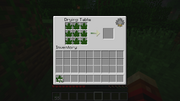 To start drying, all the contents of the drying table must be the same. Here are viable entries:
Drying Table
Shaped

5 planks blocks, 1 redstone
Community content is available under
CC-BY-SA
unless otherwise noted.